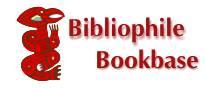 Buy this book on-line
Franzen, Jonathan : How To Be Alone: Essays
Farrar, Straus & Giroux, New York City, NY, 2002

ISBN 0374173273

First Edition / First Printing. Fine in Fine Dust Jacket. 278 pages. The author's debut collection of essays. Now considered a contemporary classic. The First Hardcover Edition. Precedes and should not be confused with all other subsequent editions. Published in a small and limited first print run as a hardcover original only. The First Edition is now scarce. Presents Jonathan Franzen's "How To Be Alone". Fourteen impassioned essays on the inner life, the very real need to cultivate solitude and to preserve one's personal values amid the distractions and corruptions of mass-media culture. Includes Jonathan Franzen's two most celebrated essays thus far, "Why Bother?" and "My Father's Brain". The former was originally published in Harper's Magazine as "Perchance To Dream", the author's landmark literary manifesto-essay. The latter originally appeared in The New Yorker Magazine, and was turned into Franzen's very first Limited Edition production by a British fine press. "Urges readers to say no to drugs, but not the pharmaceutical kind. His opiates are those technology offers in the form of TV, pop culture, and endless gadgetry, soporifics that are addictive, and in the long run only make society's problems worse. Franzen is just as hard on intellectual conformity, on academe's canonization of third-rate but politically correct novels. As a serious artist, he knows that the deck is stacked against him. After all, a great novel is a kind of anti-product, one that is 'inexpensive, infinitely reusable, and worst of all, unimprovable'. The problem is that instead of being allowed to enjoy our solitary uniqueness, we are all being turned into one gigantic, corporate-created entity" (Publishers Weekly). "To be" and "To be alone" are, finally, one and the same thing. But contemporary culture deliberately equates solitude with loneliness: If you're alone, then you must be lonely. It doesn't follow, but the correlation is drilled on a daily basis by mass-media culture: If you're watching TV, you are not alone, television is (or is like) your cozy, dependable, and constant companion. How to be alone? Read. This book, among others. An absolute "must-have" title for Jonathan Franzen collectors. This copy is very prominently and beautifully signed in black ink-pen on the title page by Jonathan Franzen. It is signed directly on the page itself, not on a tipped-in page. It comes with a copy of the Souvenir Program, which is beautifully produced, of the event during which his signature was obtained. This title is a contemporary classic. This is one of few such signed copies of the First Hardcover Edition/First Printing still available online and is in especially fine condition: Clean, crisp, and bright, a pristine beauty. Please note: Copies available online have serious flaws or are subsequent printings yet command as much as $200. This is surely an accessible and lovely alternative. A scarce signed copy thus. Selected by The New Yorker Magazine as one of "Twenty Writers for the 21st Century", a selection that was prescient because he had not written anything in almost a decade. Winner of the National Book Award in 2001 for "The Corrections". One of the finest American writers of our time. A fine copy. (SEE ALSO OTHER JONATHAN FRANZEN TITLES IN OUR CATALOG). ISBN 0374173273.

1
1


Franzen, Jonathan : How To Be Alone: Essays is listed for sale on Bibliophile Bookbase by ModernRare.

Click here for full details of this book, to ask a question or to buy it on-line.

Bibliophile Bookbase probably offers multiple copies of Franzen, Jonathan : How To Be Alone: Essays. Click here to select from a complete list of available copies of this book.

Bibliophile Bookbase lists over 5 million books, maps and prints including incunabula, used books, first editions, libri antichi and atlases.